Home
Training
Calendar of Events
Mission Statement
Puppies
Our Boys
Our Girls
Photo Album
Dog Related Articles
Email
103
Proud-Haus Shepherds


Proud's Miss Raggedy Anna,
CD, RN, HC, TC, TDI, CGC, PennHIP/OFAe, MDR1 normal/normal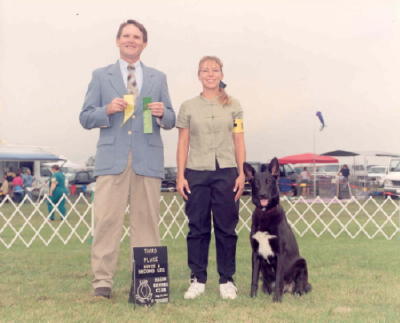 30 March, 2000-10 December, 2007
My shadow, my partner, my friend-- you were a reflection of my own self, just found inside my dog.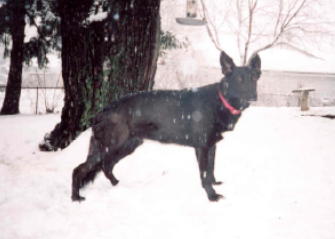 All of us as dog owners have had special & unforgettable dogs in our lives, and MissY is one of mine. Miss was born Maech 30, 2000-last registered of a litter of nine; our Andy is also from this same litter(He was a planned keep, though!). Through circumstances, Miss just 'ended up' with us. She was our sweet, quiet girl. She had always "the look" of intelligence, nobility and drive-so when she was 10 months old, we started working in AKC obedience. By the end of the summer, Miss had her CD(companion dog) in 4 tries; all three legs with placements. We took a break during the cold, but then began on her Open title(CDX-companion dog excellent) training.

As it had been planned, her first breeding was to be in March, 02, knew we wouldn't be showing for a while-thought we'd take it easy-but, Miss enjoys working so much, I had to make her quit 2 days before she whelped!! For the first 3 weeks after her pups were born, I could hardly pull her away, but, when she decided they were okay for a little while alone, Miss would come to me with leash-in-mouth, bouncing all around me with training on the brain!!!

Watch out there this summer, as Miss and I will be in the Open ring at trials!!! Miss is one of those girls that everyone has to comment, "Your dog is so well-behaved","Your dog is sooo beautiful" She is so loving and devoted; she's such a wonderful companion for me. We couldn't be any luckier than to have Miss as our alpha bitch. She passes her wonderful qualities of calmness, confidence, intelligence, and lovey-smushy-cuddliness into her offspring, along with her beautiful head and easy, tight movement!

I really couldn't be more grateful to have this wonderful girl- I've had friends say that the only thing "wrong" with her is that she isn't white(!!!!)-but, she's white factored, and one of only 2 colored dogs registered with AWSA. From my foot warmer, to co-worker, to protector, to good friend, MissY is truly a joy to my family and an asset worth more than her weight in gold to us here at Proud-Haus!!!

Miss is a big bitch being at 24 3/8 inches tall, averaging 80-85 pounds in good condition. She has dark eyes, a very thick coat, albeit a shorter one, full detention, a correct, typey structure of the "old" German Shepherd, passing on a wonderful turn of stifle and gorgeous heads on to her offspring, both her boys and her girls!!! Genetically, Miss is aa-aa black, with a white recessive, so when bred to a white dog, statistically, half of the pups are white, and the other half colored, determined by what is carried (masked by white) by dad, as black is recessive to any other Color in the GSD. She has puppies both as White Shepherds and GSDs out there in the conformation show ring in UKC.


JayDee's Proud-Haus Shepherds
Jen Proud, BS, CVT, CT (ASCP) TCVM VTS
Montello, WI
608.618.K911 (5911)
Email