Home
Training
Calendar of Events
Mission Statement
Puppies
Our Boys
Our Girls
Photo Album
Dog Related Articles
Email
Visitors
JayDee's Proud-Haus Shepherds
Home of the Total Dog you can be Proud of!!


JayDee's Tax Collector at PHS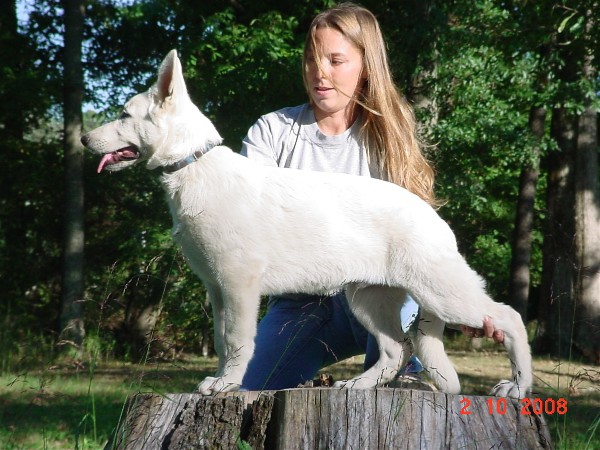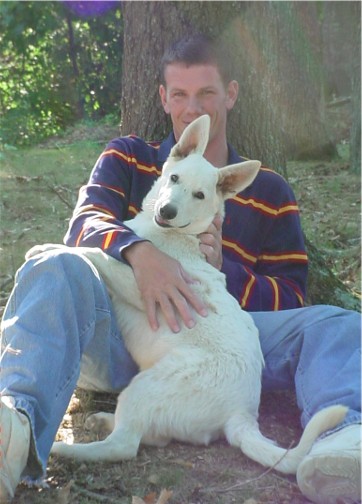 Here I am again, wondering what to say about a baby...
Matthew is the puppy I couldn't dare sell, and didn't want to. He is bad, bad, bad (!) Just what I want in a puppy... very focused, and has drive to die for in a working-type dog; although he'll be just mostly loved as a pet by his dad. As you can see, they're quite a pair.
Like all of my dogs, I have high hopes for Matthew too... I don't much know what to make of his conformation, just that he is massive in bone, very good in pigment, white-white; a great set of ears (with good ear-set) that even came up early early, especially for my line. He has a much better chest depth than many I've produced, and has an excellent front. He has great-big movement for such a little guy! I can say, however, I do know his temperament... reminds me of my girl, MissY, and that's a blessing. He already has the nicest front-sit on a reacall consistently of any dog I've had. Let's hope he'll keep it... I hope to be using it alot in the future as we hope to be able to compete in all of my loved venues: obedience, rally, dog sport.
More to come as we watch this boy grow!
JayDee's Proud-Haus Shepherds
Jen Proud, BS, CVT, CT (ASCP) TCVM VTS
Montello, WI
608.618.K911 (5911)
Email