Home
Training
Calendar of Events
Mission Statement
Puppies
Our Boys
Our Girls
Photo Album
Dog Related Articles
Email
Proud-Haus Shepherds
Home of the Total Dog you can be Proud of!!!


FO CH
Proud of What Lies Beneath
RN, TC, HC, CGC, PennHIP, MDR1 clear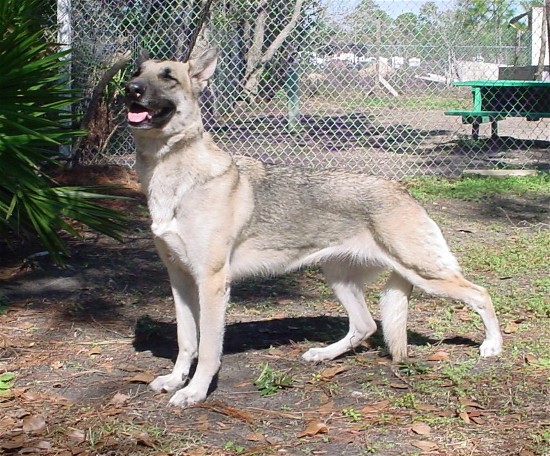 Mahala, meaning "tender affection" in Hebrew, is truly what's at the heart of this little sable sweetie!
Born on the 17th of November, 2004, last in a litter of five, and the only sable ever born here at the Proud home!
We have big plans for this little girlie-- Hollie will be starting her conformation career in February, 2005 down in Florida at the Sunshine Terrier Club's UKC shows in Wesley Chapel, FL. She has also started attending Early Puppy Kindergarten/Socialization classes at 9 weeks old-- getting a puppy started the earlier the better it is for all! MissY, Hollie's mom, has made her mark on her little girl; Hollie is a little ball of fire and drive, and very eager to please and play. We hope that she will excel in the obedience rings (as does her mother), and plan on starting her trial career in Fall 2005/Spring 2006.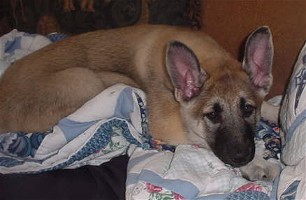 Hollie is a girl of substance and bone, all complimented by lovely smooth movement-- a great front and under reach, with strong drive and correctly opening hocks on the back end of the drive; all while being rock-solid firm and steady coming and going (a testament to her strong hips and elbows) especially in a GSD; physical traits we here at Proud-Haus absolutely adore seeing in our dogs! She has a lovely, feminine, yet substantial head, set on a strong, long neck, flowing into a hard, solid topline, into a correctly-angled croup (even though I think it's a little short!) and ending in a low, well-set floor length tail with proper carriage.
Hollie is a result of many years of hard, careful thought in our breeding programme; we expect her to be an asset in the continuance of producing happy and healthy working and show dogs. We truly are Proud of What Lies Beneath-- Hollie is both black and white factored beneath her sable outward appearance!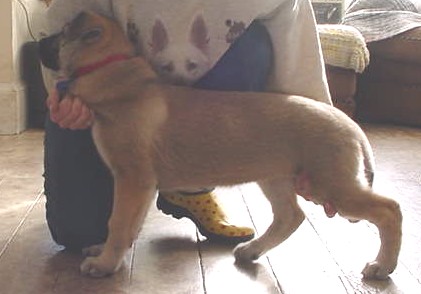 Feb. 2005--
Hollie went Reserve Best Puppy in Show in Wesley Chapel, FL on Sunday, February 13th, 2005! And, Best of Breed Novice Puppy for the entire weekend! (there was only 1 all breed puppy match, and 3 individual breed competitions for the weekend) What a way to start a conformation career!!

May 2005--
Hollie was PennHIPed on the 12th... I'm anxiously awaiting her results! There has been great discussion about whether PennHIP is accurate when done on younger dogs (typically less than 6 months of age). It's more of a curiousity, but will be good information learned, IMHO. Hollie will be OFAed when she's over 2 years old. Here's digital copies of the actual radiographs that went to PennHIP:
| | | |
| --- | --- | --- |
| Hips Extended View | Distraction View | Compression View |
Hollie's PennHIP is back!!!
>90th%ile for her... our lowest DIs in our programme... LH=0.21 RH=0.22 !!!!WOW!!!


Sept. 2005--
Hollie earns her UKC Conformation Championship and her first TOTOAL DOG QUALIFIER award!! with 2 majors at Premier, 05 (a BF and a BOW); and 2 majors at the UWSC shows-- she qualified in novice with a first place and her last Best Female major, earning a Total Dog award, and her Championship in the same show! Dec. 2005--
Hollie earns her Rally Novice title with all scores above 90!! way to go little girlie! She earned her first leg at the tender age of only 9 months, her second leg at 10 months, and we had to take a break, as Chloe had her pups... no time to travel with 10 puppies in tow! (tee-hee!) We're so proud of our sable sweetie; she shows such great promise to be an excellent working dog...

July, 2007--
Hollie competed at her second Premier, earning her Dog Sport FO title ... where to go next?


Click Here to see Hollie's Pedigree