Home
Training
Calendar of Events
Mission Statement
Puppies
Our Boys
Our Girls
Photo Album
Dog Related Articles
Email
Proud-Haus Shepherds
Home of the Total Dog you can be Proud of!!!


UKC CH Proud's Dara,
OFA H&E (good/normal), MDR1 clear by parentage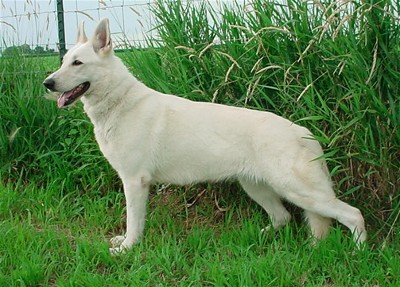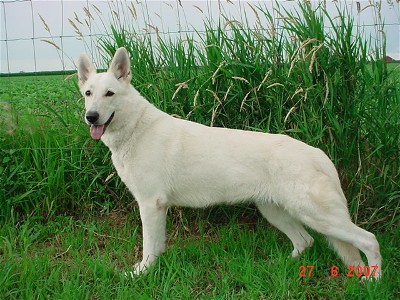 21 November, 2001-31 January, 2008
My surprise baby, into this earth at my feet... left for your life, but came home to leave this earth at my feet, too. May you rest well with both your parents, as they were waiting on you.
Dara has been a learning experience for me, and is a story of all stories, right from the day she was concieved....
Dara is the pick product of my 'whoops' litter (yes, even I have had one!-- all breeders that keep both sexes have at least one- and if they're good, only one) that was from fall of 2002.... I was at my old training facility 20 miles away, whilst my ex was sleeping in the living room chair, Bill bred MissY on her day 9... I had thought she was having a 'false pregnancy' that some bitches go through; well until one morning about 2 months later, out popped a puppy! Surprise!!! First, a black and tan saddle girl, then an all-black boy, then a white girl.... a nice little litter! I learned Bill was a b/t - black factored masked beneath the white-- always nice to know for producing whiter-whites... give Thanks Bill already had his clearances!
So, Dara was supposed to go to my friend, a repeat offender to the Proud-Haus, as a companion to her first, "Benny". Well, it turned out that Benny loved "Daphne", the b/t female... so she went that way. I had a home, so I thought, for Dara-doo... I did a home-visit after a week or two, and came home with her then... I thought then, "I should keep her at this point, she's already been out once", but, since she was young, I somehow decided to put her out on the single worst co-ownership I ever put a dog out on... and that's all I'm gonna say about that one. Except:
Once in a while, sometimes things come around back to right, because a Friday in late June,' 07, I received an email stating she wasn't wanted. I replied, of course, "Bring her back." 18 hours later, Dara was home again, on the plan for a permanent stay.
I have always bred with the promise and expectation of that if any of my pups were displaced for ANY reason, whether not being wanted, illness, divorce, death, or whatever, I would take them back, no questions asked. I have only had to do this before a couple of times, once with an older pup, and once with an adult service dog who's owner passed away. I never expected I would ever get Dara back! What a delight for me, as my MissY (Dara's mum) only had three litters, and I kept Chloe from her first, and Hollie from her last, and had Daphne (whom I knew would never be bred), and Dara out on co-ownerships from her litter in the middle. Now, I have all three of my MissY girls here at home :o)

Dara is a beautiful, beautiful girl: nice bone, a good chest and prosternum, strong topline, a tail that touches the floor with its tip (I love long tails!) a pleasing rear with nice stifles and short hocks... excellent pigment with grey ears and skin all over. She has some cream on her ears that I can see right now; I'm not yet quite sure what color she'll be until she changes coat this fall (her coat is damaged). I do, however, remember her being mostly white with cream on her ears only from when she was a baby... time shall tell!

So, now, I've had Dara for three weeks, and we took her out to a UKC conformation show- she did quite well (winning the Champions class twice) and seemed ever so very very happy to get out and do something again... she earned her championship with me way back 4 years ago, when she was eight months old; sadly, the co-ownership crumbled right after her championship was finished, and she only showed once since that time until last weekend. I can't wait until some time passes, as I asked the judge about her- the judge evaluated she can be Best of Breed material, just needed to be in better health, coat, condition, and put on some musculature. After this trial run, I sent in entries for some AKC Rally trials in August, hopefully, we'll make the entry limit!
I don't expect to be breeding Dara until next year at the earliest, if ever, she had one litter while she was in her other home in 2006. I would like to see her get some performance titles and also get into condition, perhpaps earning her Grand Championship before I put her into the whelping box.




| | | |
| --- | --- | --- |
| 4½ years | 6 months; AWSA Best Puppy | 4½ months |
Click Here to see Dara's Pedigree