Home
Training
Calendar of Events
Mission Statement
Puppies
Our Boys
Our Girls
Photo Album
Dog Related Articles
Email
1941 Visitors
Proud-Haus Shepherds
Home of the Total Dog You can be Proud of!!!


BISS 2x Select WSCC CH/AWSA Select CH BIMBS/RBIMBS GRCH UCD FO
WillowWood's Proud Jack B Nimble
CD, RN, HC, TDI, CGC, PennHIP/OFA E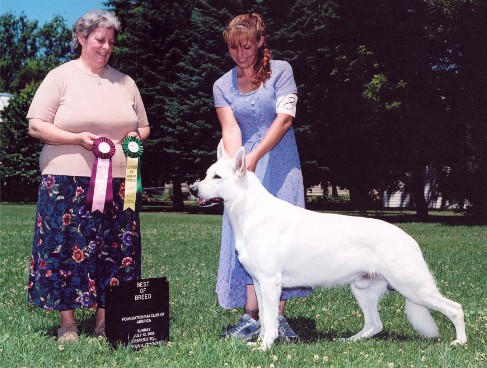 15 June, 2001 - 17 February, 2007
"My friend, no matter when it was for you to leave me, it would have been too soon."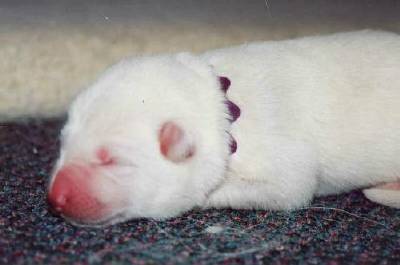 Bill made his debut to the world on June 15, 2001, at Willow Wood White Shepherds in Paw Paw, MI., the home of my friend, Jacki Wheeler. I brought Bill home at the tender age of 6 1/2 weeks. When he first came home, he hated us, & I didn't like him either. He seemed to have no use for any of us!!! It took a few weeks, but, he started warming up to us it all started when Bill and I were outside, he was 9 weeks old; Bill was playing by himself in the yard, ignoring me, of course!!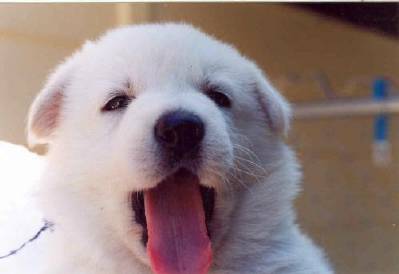 So, I dropped to my hands and knees and growled and play-bowed to him~ his one erect ear fell over (for the next wee k), he dropped into a bow of his own, popped up and came a runnin'! He finally decided he'd be my friend!! Bill has become such a sweet, quiet, easy-to-live-with dog. Bill is the dog who never ever gets into anything, he's non-dominant, a real "Steady Eddie" worker, and an easy to get along with kind of guy.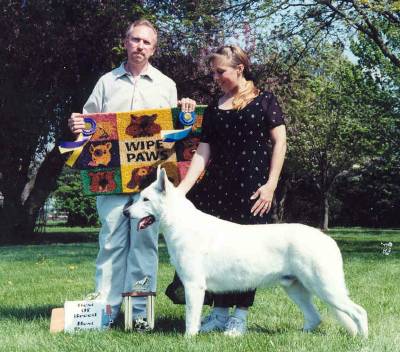 Bill's show career started at 11 weeks, winning his class at the 2001 AWSA Nationals the first time he was in the ring-I knew from then that he was going to be one special guy!! Bill has been quite the achiever in his family, of his 6 siblings (half of whom are shown in conformation, too), Bill was the first to earn his UKC Championship at 8 months (1 day), first to earn his CGC(Canine Good Citizen) at 6 months, first to earn his TDI(Therapy Dog), and only one of the brood to have earned his AWSA and WSCC Championships, UKC Grand Championship, AKC Companion Dog title, and Herding Instinct Certificate so far! We may have butted heads at first, but, what a wonderful dog and a beautiful companion he has become to me, and a joy in my every day of life today.

It wasn't until Bill started maturing, around 18 months, that he started "sparking-up" He became much more outgoing and 'peppy'; now, when I come into the house after being out, he's right at the door, greeting me with a smile, wagging his tail so hard that it hits both sides of his body and his whole butt wiggles! Bill has really grown-up nicely; he's 'stepped-up' and has become a protector of his "pack", and is a fine puppy raiser, too-having our Chloe to raise and a litter of his own we have 3 cats he even plays with, and even one chasing Bill!!!
Bill has an excellent temperament, being calm and steady in every aspect. He is mild-mannered and very easy to live with, charming, and, so far, he has passed those same qualities into each one of his children. Bill is 25 1/2 inches tall, and weighs on average 85-90 pounds, his conformation is excellent, with wonderfully smooth, effortless movement. He has large bone, full detention, dark brown eyes, white coat(small amount of biscuit on ears), and very good black pigment.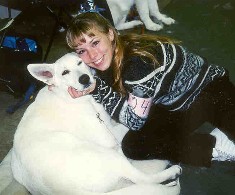 Bill has been a UKC Top Ten qualifier since the age of 6mos. (&1day), finishing every year since in the Top Ten. Jacki- thank you- without your careful breeding we would have never gotten him!


JayDee's Proud-Haus Shepherds
Jen Proud, BS, CVT, CT (ASCP) TCVM VTS
Montello, WI
608.618.K911 (5911)
Email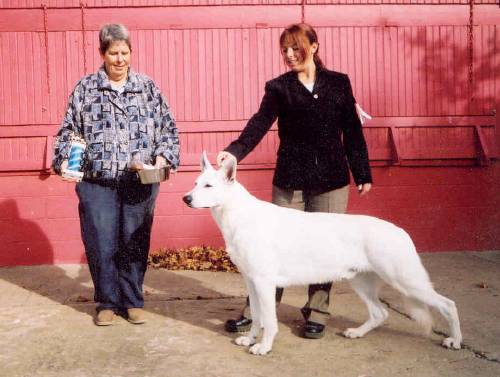 Bill at Thanksgiving Extravaganza Nov. 29th in Abilene, KS.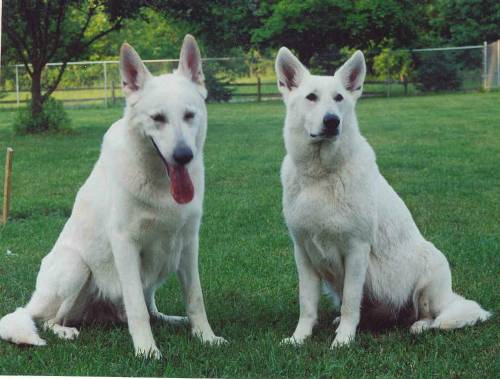 Bill's Mom and Dad, earlier on the day the litter came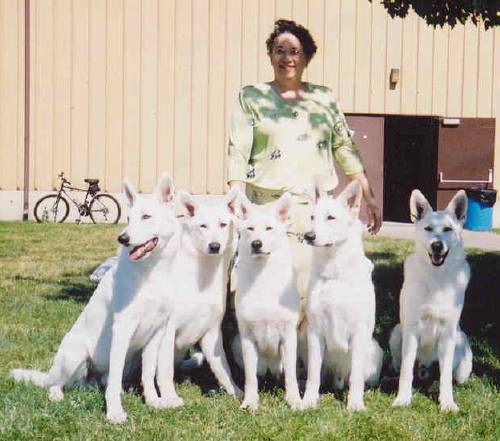 Bill with his mom, 2 brothers and sister