Mission Statement
Puppies
Training
Our Boys
Our Girls
Photo Album
Home
Dog Related Articles
Email
Proud-Haus Shepherds
Home of the Total Dog you can be Proud of!!!


BPISS UKC GRCH FO Proud Massey's Lakyndzie, RN, TDI, HC, CGC, PennHIP-OFA H&E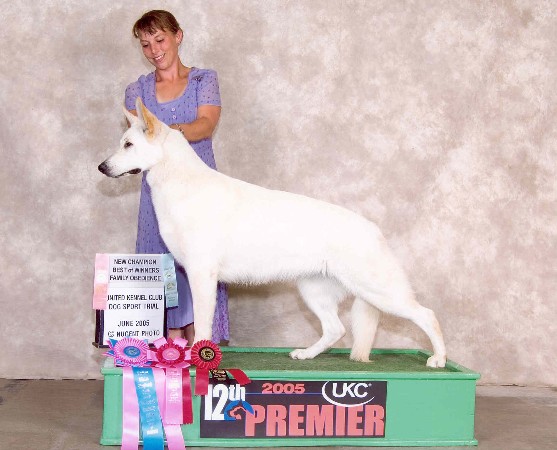 Kyndzie at Premier, 2005––new Champion!


Lovingly owned with Diane Massey and family at Rolling Oaks Shepherds Where you can see more about Kyndzie and her family.

Kyndzie is my pick female from Chloe and Bill's first litter together, the "E" litter. She is just a wonderful girl, happy and easy–going, with a willingness to please all she cares about; she's protective at home, friendly when out and about, pliable and even, laid–back around even the most frenetic situations, and displays a drive and focus when it's called upon.
I have been her primary handler for showing, and even though she doesn't live with me, she just loves to work for and with me. "Zie" has more than fufilled all of our expectations, even having earned her Grand Championship in only 5 shows (it takes 5 wins to get the GRCH), with her last leg being earned at Premier, 2006, only one year after she earned her Championship, which was at Premier, 2005.
She earned her Dog Sport Family Obedience (UKC FO) and her Novice Rally (AKC RN) titles with ease, earning each with the minimum amount of showings: the FO in one try, and her RN in only 3 tries!
Producing temperament like Zie's makes me proud to be her breeder, and to have dogs like her parents in my breeding programme, as Kyndzie is a typical representative of the breedings between Chloe and Bill.
I'm so very pleased about all the Bill–Chloe pups–– so much so, I'll be keeping a Bill–Chloe boy puppy for myself from their Feb. 2007 litter!!
Zie is a wonderful asset to Diane's breeding programme at Rolling Oaks, where she resides at full time as the beloved queen of the house, with her housemates, CH "Saint" a fellow White Shepherd,and "Rusty" a Golden Retriever.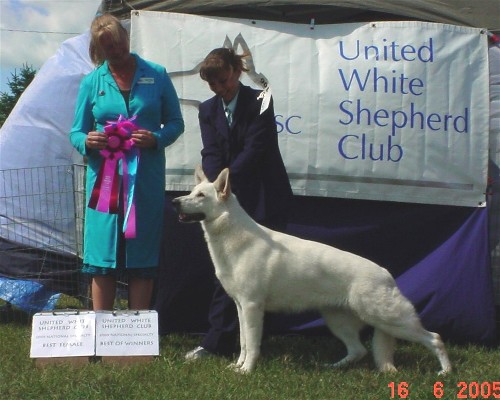 UWSC National Specialty, 2005
Kyndzie's Pedigree


BIMBS/RBIMBS 2x Select WSCC/AWSA Select CH GRCH UCD FO WillowWood's Proud Jack B Nimble, CD,RN,TDI,CGC,HC,PennHIP/OFAe

white


WGS/UKC CH UUD Von Tasz' Jack of All Trades, UDX, TDI, CGC, HC, OFA H&E

white


WGS/WSCC CH Oscar Winslow Von Tasz, CDX, TT, TD, CGC, OFA H&E
white


WGS CH Moses Lascar Von Tasz, CDX, TD, TT, HC, CGC, OFA H&E white

WGS CH Regalwise Ideal Reka, CDX, TD, TT, HC, CGC, OFA H&E white

WGS/WSCC CH Hoofprint Be A Spaz Von Tasz, CD, TD, HC, CGC, OFA H&E
white


Hoof Print Pancho, RXO, OP, OVC white

Hoof Print Lanna, RX, OVC white

GRCH Royal Dinah of WillowWood, TDI,CGC,HC,DSA,PennHIP/OFA H&E
white


BIMBS AWSA/WSCC CH UAG1 UCD GRCH Royal Sir Issac's IQ, CD, CGC, HCT, OFA white

AWSA/WSCC CH Day's IQ, CD,FDCH, TT, HC, CGC, OVC,H&E, vWB132%

AWSA/WSCC/UKC CH UCD Royal Kountry Magnolia, CD, CGC, OFA

WSCC/UKC CH UCD Royal Sierra of Tumbledown, CD,CGC, OFA H&E
white


WGS/AWSA/WSCC/UKC CH UCD Reeves Royal Angus Von Tasz, CDX, TT, HC, CGC, OFA H&E white

WGS CH Phoenix of Tumbledown, OFA H&E white

(WSCC puppy CH)AWSA major pointed RBIMBS GRCH FO Proud's Corinthian Connection, CD, RN, TDI, CGC, HC, PennHIP/OFA E
white


BIMBS AWSA/WSCC CH UAG1 UCD GRCH Royal Sir Issac's IQ, CD, CGC, HCT, OFA
white

AWSA/WSCC CH Day's IQ, CD,FDCH, TT, HC, CGC, OVC,H&E, vWB132%

Hoofprint Sundance, RXO, OP,OVC
white

WSCC alt CH Hoofprint Day Light Star, OP, TDI, CGC, TT, OVC H&E
white

AWSA/WSCC/UKC CH UCD Royal Kountry Magnolia, CD, CGC, OFA

WGS CH Tumbledown's Argent Warrior, OFA H&E
white

Royal Daisy of Klotz Kountry, OFA H&E

Proud's Miss Raggedy Anna, CD, RN, TDI, CGC, TC, HC, PennHIP/OFA E
black w/white


UKC CH Proud's Gabriel von Snowcloud, CD, CGC, OFA
white

Zachery the Great, OFA
white

Sundancer Dallas, CGC, OFA
white

Hannah Elise Proud, CGC, OFA
black/red


Sir Calan J Boone, OFAp
black/tan

Callie J O'Malley, OFAp
black/tan