Hi everyone Ted here! I stole the computer to type this bio thingy for my webpage. I tend to steal the phone or computer quite frequently to type to my "cousin" Willy, so I told my person it was only best I type this instead of her.
So as the page says my name is Undaunted, Ted for short. My person sometimes gets cheesy and calls me her Teddy Bear. It's okay though I let her because it fits, I like to get hugs and snuggles. When I popped out, on a warm August afternoon me and my siblings didn't feel too good. My two brothers went to this place my person calls heaven. There were a lot of this watery stuff that came out of her eyes and her and my other kinda person, (mamma Jen my person calls her). My person told me that if I pushed through this awful sickness that I could be introduced to the cheeseburger program. My person and mamma Jen had to give me and my sister Gretta (Unforgettable) 24/7 care and even tube fed us. Me and sissy Gretta fought through pneumonia and something way worse than Kennel Cough. We really wanted to see this cheeseburger program. My person said we both lived up to our names.
Fast forward to the spring, I started settling in with my person, we went to classes and all over. I even gave her and mamma Jen a mini heart attack when I ran into the fire pit and sliced my arm open. Oh boy did that hurt!
Then I met my cousin Willy! He's not really my cousin, more of what's called a Livestock Guardian Dog, but we play like family. And oh boy is he a lot of fun. Saturdays I get to play with him and Sundays I get to play with my actual family. I have a pretty awesome social life most weekends. When it isn't the weekend I play with Paw Paw (Hummer) and mommy Sparrow. Paw Paw has taught me how to dig and how to protect my person. Mommy Sparrow well she teaches me other manners too. On Thursdays we get to do this awesome thing that my person calls therapy work. Her me and uncle Shay pack up in the car and spend all day doing this. We go from house to house making people laugh, and I even do these funny things called tricks. It is a blast because they give me and Uncle Shay all these compliments and say how happy they are to see us.
This summer even with what my person calls the world shutting down (Covid-19) I was able to get my trick dog title and my novice rally title. I even did a bunch of virtual conformation shows (I won them all but one (and then I won my class) too!). Next spring my person said that I get to do conformation in the actual ring! I'm so excited for that. We run and run round in circles and mamma Jen gives me all these treats and pets and they tell me how handsome I am.
My person says that I am sweet and cuddly, and super goofy and dopey. She gives me extra squeezes some days and I even get to ride shotgun. My person also says that she is always thankful I made it. Again she's pretty cheesy.
Some day I hope to win a bunch of titles in different show areas, but hopefully none that take too much energy, I like naps and doing what people call being a couch potato.
For more regular updates check out my Facebook page or the kennel Facebook page. My person and mamma Jen like to post about all of us.
Time to go take a nap, or dig a hole, Paw Paw is holding a hole digging class today!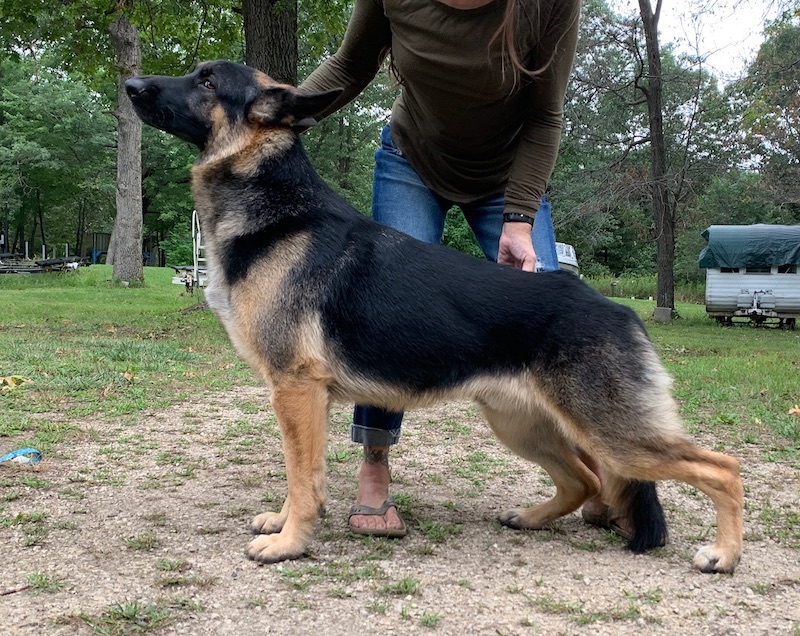 Ted as a teen at 13 months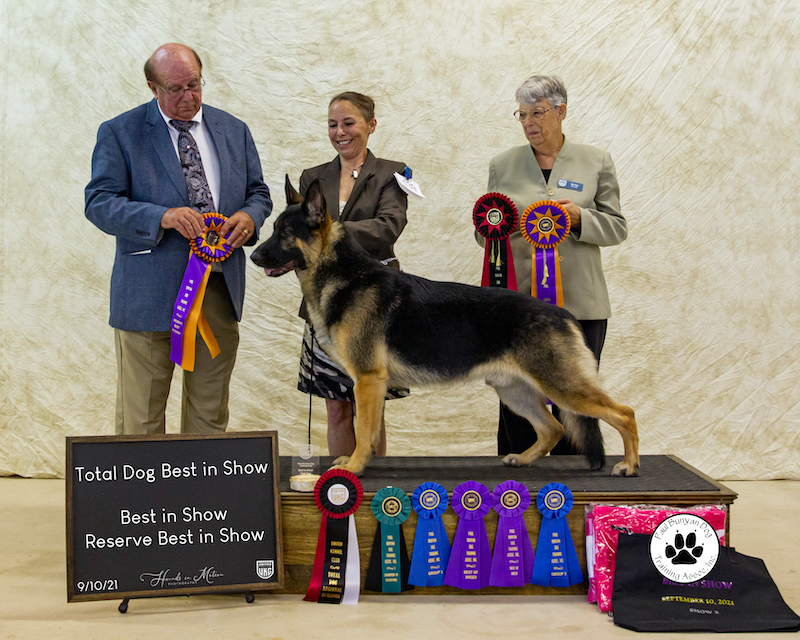 Ted's first Best in Show win, at just 2 years old