A puppy I waited over a year for and knew the instant she popped out that it was her. Sparrow is a 1 year old little spitfire and like her father, Hummer, she just aims to love and please!

We are working on her basic commands and plan on showing in obedience, agility, lure coursing, and hopefully Tracking.

Her name, "Sparrow" came to me as a 3 A.M. thought that woke me up more than a year before she was even born. I tossed around a few more names but when the time finally came and I saw her, I knew no other name would fit. She was tough and sturdy; maybe not the most graceful thing but a go getter and one to never give up (just like her daddy).

With her registered name it holds an even stronger meaning dear to me. The Chinese translation to the PinYin phrase translates in English to "Little bird, spread your wings and soar". She is the first German Shepherd that I have had since birth and is the pup I am really taking a leap with and soaring to however high she will take me in the dog world of events.

Little Bird, I am excited to see what the future has in store for us!


Update: September 2017

Sparrow competed in her first obedience and rally show. She qualified in rally novice and in beginner novice qualified with first place at only 8.5 months old. Next stop is GSDCA Nationals in October, stay tuned for the results.


Update: January 2018

Sparrow is now a 13 month old pup and is working on getting ready to start competing towards her obedience titles as well as getting ready to make her debut in the conformation ring this summer. This elegant beauty is coming along nicely, and loves to work and play. She is slowly starting some agility training, and cannot wait until she gets to play in the big dog ring like her dad Hummer.


Update: August 2018

Sparrow has recently completed her RN title, 2/3 with 1st place placements. She is coming along quite nice in training and is working on getting her BN before the year is up and then running into the agility ring come January. She is showing great potential for any venue she sees fit. Also in exciting news, Sparrow is expecting puppies in September, news on that will be coming soon!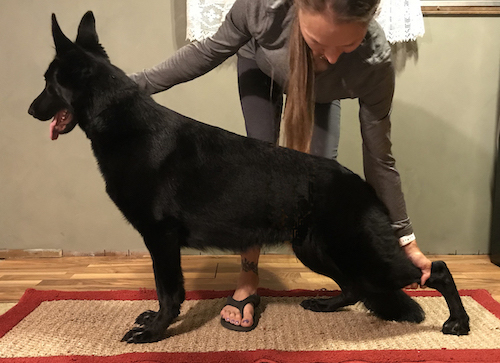 Sparrow in July, 2018