Oh to have another "titty-baby"... Na-Na was destined to be one from the start. Hollie was bred with the intention of keeping a female pup from the litter, as I was figuring that she (Hollie) would only be having one litter, as she was already five years old when having her first. Hence, the name "Now-or-Never". Na-Na's call name was supposed to be "Naomi", but from she was a wee pup she was called "Na-Na".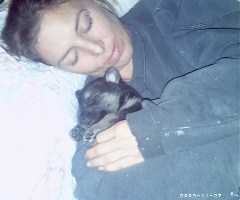 She was toted around from the time she could see, maybe earlier, and for some reason, I knew this rodent-size pup would be mine. Her sister, "Ava" had much nicer coat pigment, and was so much bigger, but I knew she'd be going for the stud fee. Ava is already a UKC Champion. Na-Na hasn't yet been shown. LOL
I'm thrilled in so many ways about this little girl: she's brilliant, driven, & energetic-- the same things that drive me crazy other days! Na-Na is the biggest, smoothest mover I have ever seen in a pocket-pistol sized GSD... she truly floats while she flies! Complimenting her effortless side-gait is crystal clean movement while coming and going, an attribute that I feel is a "must have".
Na-Na will be beginning her show career in Spring, '11, and we hope to be in the performance ring before her second birthday.